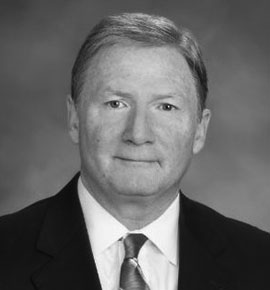 Mr. Vaughn is the founder of the Vaughn Law Group, a law firm dedicated to serving the contract office furniture industry. With over 30 years of experience exclusively within this industry, Richard advises on business strategy and provides legal guidance to dealer principal owners. He offers dealer owners advice on succession planning, business, commercial and employment law and manages the strategic acquisition process for dealer owners wanting to merge or sell their businesses.
Previously, Richard was recruited and became director of distribution development for Allsteel-HNI Corp., where he was responsible for the evaluation, development, and implementation of Allsteel's long-term distribution strategy.
Before joining Allsteel, Richard was president, chief executive officer, and general counsel at Peabody Office Furniture Corporation, a contract office furniture dealership based in Boston, Massachusetts. In that role, he led the corporation's restructuring and strategy development and managed all legal activity.
Prior to that, he worked for Knoll, Inc. in Boston, Massachusetts, aiding in dealer development in the Northern division and provided advice to dealers in strategic planning, management, operations and finance. Richard also worked for GF Furniture Systems, Inc. as the director of sales for Canada and for Steelcase Inc., as a district manager.
Education/Professional Involvement
J.D. from Massachusetts School of Law, Andover, Massachusetts
B.S. in Business Administration from Suffolk University, Boston, Massachusetts
Member of the Massachusetts Bar Association
Member of Board of Directors of Caritas Norwood Hospital