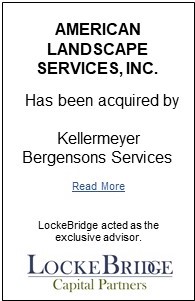 LockeBridge Capital Partners, a leading middle market Boston area investment bank, advising on mergers, acquisitions, divestitures, valuations and capital raises, announced today that it has acted as the exclusive financial advisor to American Landscape Services, Inc. on its sale to Kellermeyer Bergensons Services, LLC ("KBS").
American Landscape Services provides grounds maintenance services to commerical clients throughout the United States. Scott Waxler, LockeBridge Managing Partner, stated, LockeBridge's deep vertical expertise in the facilities services vertical includes numerous services which are complimentary with American Landscape such as janitorial, parking lot maintenance, floor care and mechanical and lighting systems maintenance.  The facilities services industry has been experiencing a large convergence of  offerings which is resulting in both highly accretive synergies as well as one-stop shop services for customers at signficant savings. Our wide ranging facilities services experience enables us to introduce many highly strategic potential buyers to our sell-side clients,  which ultimately results in a very favorable transaction.
KBS is North America's largest privately-owned facility services provider and a  trusted partner to leading operations and facility managers across 75,000 client locations throughout North America.