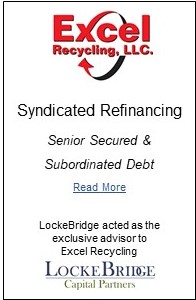 LockeBridge Capital Partners, a leading middle market Boston area investment banking firm,  announced today that it has acted as the exclusive financial advisor to Excel Recycling LLC, the largest privately owned metal processing and recycling firm in New England, in its refinancing of existing debt and expansion of its working capital credit facility.
Marty Costa, President of Excel Recycling, stated, "LockeBridge succeeded despite a very challenging lending environment because they took the time to understand our business, show us how to best present our business model to potential lenders and helped navigate the path to success. Jonathan Costa, Executive President of Excel, added, "The new financing improves our cash flow and aligns with our current business model.  We now have access to a credit facility customized to our needs so that we can finance future growth".
Bob Seltzer, Managing Director in LockeBridge Strategic Advisory and Corporate Finance Services commented, "Client success depends on a deep understanding of each Company's unique business dynamics.  Working with Excel, LockeBridge identified key value inflators and deflators and created a strategic plan and operational model to credibly measure and monetize critical value enhancers.  We then coached Excel on how to best present this model to financial partners, which we carefully selected to best meet Excel's specific needs. With this new financing in place, Excel is well-positioned for years of profitable growth",
Excel Recycling is the largest privately-owned metal processing and recycling company in New England and operates one of only three high-speed metal shredders in Massachusetts. As a metal recycling and processing company, Excel plays a key role in reducing the carbon footprint in New England, reducing the energy consumption required to produce steel by 70 percent and aluminum by more than 90 percent, all while saving acres of scarce landfill space in Massachusetts.
Metal Industry Experience
LockeBridge has substantial experience advising companies across various metal sub-sectors including recycling, fabrication, plating, capital equipment and brokering. We have published numerous metal industry related articles and have advised, sold and received offers from many of the most well-respected companies in the metal industry.    In  addition to  our  experience  in the recycling industry and  most  metal manufacturing processes (e.g.  Plating,  Welding,  Machining,  Forming, Cutting, Shearing, Rolling, Punching, Stamping) we also have significant experience in the major metal end markets  such  as  Building  &  Construction,  Automotive,  Electrical  &  Electronics  and  Industrial  Machinery.