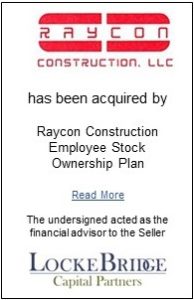 LockeBridge Capital Partners, a leading middle market Boston area investment bank, advising on mergers, acquisitions, divestitures, valuations and capital raises, announced that it has acted as the financial advisor to Raycon Construction, LLC, one of the largest privately owned concrete construction contractors in the Northeast, in its sale of 100% of the stock to a newly formed Employee Stock Ownership Plan.
Sam Haddad, President of Raycon, stated, "After assessing offers from strategic buyers it became clear to us that the best way to take care of our loyal employees was via an ESOP.  LockeBridge was very attuned to our objectives and structured and managed the execution of a transaction which far exceeded our objectives. Focusing on complex issues such as comprehensive estate planning, income and capital gains tax minimization, and employee succession planning resulted in not only optimizing Shareholder proceeds, but also ensuring that future generations of Haddad's are well protected while also taking very good care of our family of approximately 150 employees.  Throughout the process we learned of many opportunities that we were previously never aware of, and which put tens of $millions of additional proceeds into Raycon's pocket. We are so thrilled with the comprehensive solution that was structured that we have invited Mr. Waxler to join our Board of Directors to assist us during our journey of becoming one of the nation's largest concrete contractors.
David Nussbaum, Senior Vice President of Eastern Bank, commented, "Eastern Bank is proud announce it has provided the financing to facilitate Raycon Construction's sale of 100% of its stock to a newly formed Employee Stock Ownership Plan (ESOP), and we look forward to working with the team at Raycon to support the company's ongoing financial needs."
Scott Waxler, LockeBridge Managing Partner, stated, "We are thrilled to have provided Raycon with holistic advice, during this challenging banking environment, which went far beyond the transaction advisory services specified on the engagement agreement, and which are generally only available to companies executing multi-billion-dollar transactions. From pre-transaction activities such as estate planning and corporate tax minimization strategies to growth strategy advisory and post-transaction income optimization; the comprehensive services provided resulting in incremental benefits which were life altering to the Raycon stakeholders.
Raycon Construction, founded in 2007, is the New England region's leading commercial concrete construction contractor.  The Company offers expertise in concrete applications, including, but not limited to, structural post tension, conventionally reinforced and multi-level concrete podium decks.