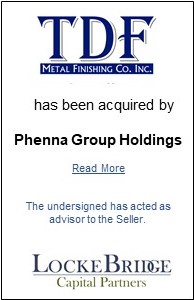 LockeBridge Capital Partners, a leading middle market Boston area investment bank, advising on mergers, acquisitions, divestitures, valuations and capital raises, is pleased to announce the sale of TDF Metal Finishing Co., Inc.  to Phenna Group Holdings, LLC. LockeBridge acted as advisor to TDF.
Founded in 1984, TDF is an ISO and military certified metal plating company.   Which offers over 20 finishes, both electroplating and electroless depositions. Headquartered in Nottingham, England, Phenna Group is a holding company comprised principally of businesses providing testing, inspection, certification, and compliance services.
Scott Waxler, LockeBridge Managing Partner, stated, "During the height of COVID, we were able to attract some of the most synergistic buyers in the country.  Over the years LockeBridge has advised on the sale of numerous metal service companies, with revenues ranging from single digit $millions to over one $billion.   Our expertise in sophisticated, tax efficient transaction structuring combined with over 4 decades of experience in the metal finishing, fabrication and processing business was instrumental in not only bringing numerous bids to TDF but also in negotiating a very favorable transaction.