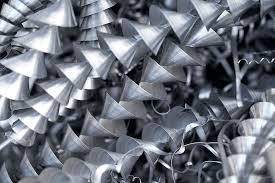 For Immediate Release
March 19, 2019 
LockeBridge Capital Partners is pleased to announce that the firm has expanded its investment banking coverage in the metal industry vertical through the addition of Michael Locker to its advisory board.
Mr. Locker represents a valuable addition to our metal industry vertical. He brings deep expertise which will enable LockeBridge to broaden the scope of its global representation. Michael is a subject matter expert in the iron and steel production and fabrication industries. For the last thirty years he has published a monthly newsletter, Steel Industry Update and has authored and directed dozens of steel and steel-related industry market studies. He has conducted over 150 joint labor-management projects at steel plants throughout North America and served as an expert in cases involving Inland, Bethlehem, National, LTV, Wheeling-Pitt and Republic Engineered Steel. Mr. Locker is frequently quoted in the trade press, as well as the Wall Street Journal and New York Times, and has presented to the Steel Success Strategies conference.
Scott Waxler, LockeBridge Managing Partner, comments "Deep subject matter expertise is critically important for bankers operating in the metal markets. A thorough understanding of industry specific issues such as inventory valuation, trading and hedging strategies and processing technologies is critical in evaluating and representing businesses operating within the metal sector"
Mr. Locker joins a team of three other members having significant metal industry transactional expertise in addition to expertise in forex and commodity hedging and trading strategies. LockeBridge has advised companies across various metal sub-sectors including recycling, fabrication, plating, capital equipment and brokering. We have published numerous metal industry related articles and have advised, sold and received offers from many of the most well-respected metal industry participants ranging in size from $10M to $950M in revenue.